Police Dog Killed On Duty Honored With Hero's Funeral
Hondo served on Herriman City Police Department's K-9 unit for five years before he was tragically killed in the line of duty.
A loving dog named Hondo received a special send-off after he was tragically killed while on duty.
The Belgian Malinois was part of Herriman City Police Department's K-9 unit in Utah where he assisted in over 100 felony arrests over the span of his career. He was certified in narcotics and patrol, making him a valuable asset to the department.
But beyond just being an incredible police dog, people loved Honod for simply being the "good boy" that he was.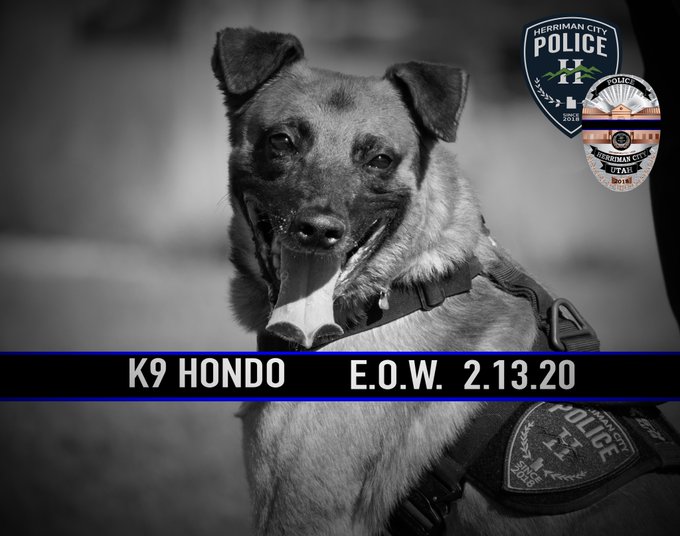 Sadly, just five years into his service with the department, the 7-year-dog was killed while on duty.
The department shared the news on social media, writing:
"It is with heavy hearts that we announce the passing of Herriman Police K9 Hondo, who was killed in the line of duty last night while assisting the U.S. Marshal's Office in apprehending a dangerous fugitive."
People were devastated by the news, and the officers only felt it was right to give Hondo a proper hero's send-off.
They reached out to a local auto body and paint shop, Rawtin Garage, and asked if they would be able to do something special for their fallen hero. They wanted Hondo's casket to be custom-painted for the occasion, and Rawtin Garage was honored to accommodate their request.
The paint shop shared the finished casket on Facebook, saying, "Hondo's casket 💔 🐕 What an honor it was to paint a hero's casket."
All the community was invited to attend the funeral, which concluded with a police vehicle procession to take Hondo through Herriman one last time.
It was a touching tribute to remember such an incredible dog who paid the ultimate sacrifice.