'Land Of Stray Dogs' Is Heavenly Refuge For Hundreds Of Stray Dogs
This is one of the best places on the planet for a stray dog to live.
There's a refuge in Costa Rica called one of the best places on the planet for a stray dog to live. Territorio de Zaguates (or "Land of Stray Dogs"), is a no-kill refuge that cares for hundreds of homeless dogs, who can run free on the sprawling property in the hills outside of San Jose.
The dogs are given food, water and shelter where they can sleep at night. It's also where volunteers bathe and care for them.
These naughty dogs think they can get a head-start on dinner when the food truck arrives!
Each dog is given a name and available for adoption. The mutts are also given their own "unique breed" status.
"Our mission is to find a home for all dogs that are in our care," Territorio de Zaguates writes on Facebook. "We are a temporary home for hundreds of dogs looking for a second chance, and we are also the permanent home of many others who may never find their own family."
Volunteers regularly take the dogs out on hikes on the large property for exercise. Look at all those happy faces!
There are water troughs all along the hiking routes so that they stay hydrated.
The dogs' caretakers have all kinds of fun with the dogs. In the video below, they slide down a hill on cardboard and the delighted dogs give chase!
The public are welcome to schedule a hike with the dogs to hang out with them and help volunteers.
Of course, you can also adopt a dog!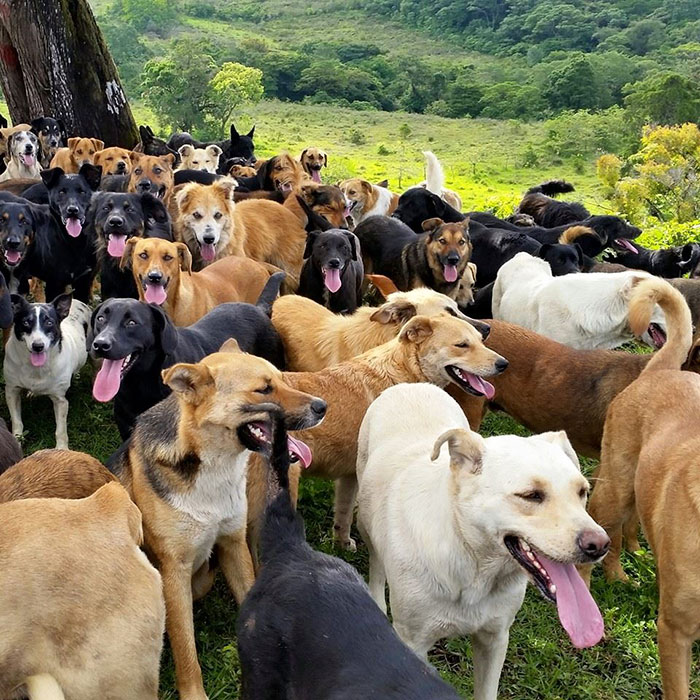 What looks like fantastic place, and one I would love to visit! Share this awesome dog shelter with your family and friends!
Note, the video below has some great highlights of Territorio de Zaguates!