Shy Stray Roaming Streets Isn't Even "A Dog" And Rescuers Still Fight For Him
This poor, timid "dog" needed a good meal and a roof over his head. When he was finally captured by rescuers, they realized he wasn't what he seemed and they didn't care one bit!
For a stray wandering the streets, all he could think about was having a good meal and finding some shelter to protect him from the elements. For one special stray wandering about, named "New Boy," he looked like any other animal in need. He was skinny and hungry– and of course in need of a good bath.
When New Boy was picked up by a local Los Angeles shelter, they had no idea just how special he actually was. Well, all dogs are special, but New Boy was unlike any other dog the shelter volunteers had come across.
Volunteers quickly discovered that this poor boy was extremely timid. He was so unsure of people that he placed himself against a wall and didn't want to look away. He was also dehydrated, malnourished, riddled with mange, and had parasites. He deserved treatment and love. But things were about to take a drastic turn.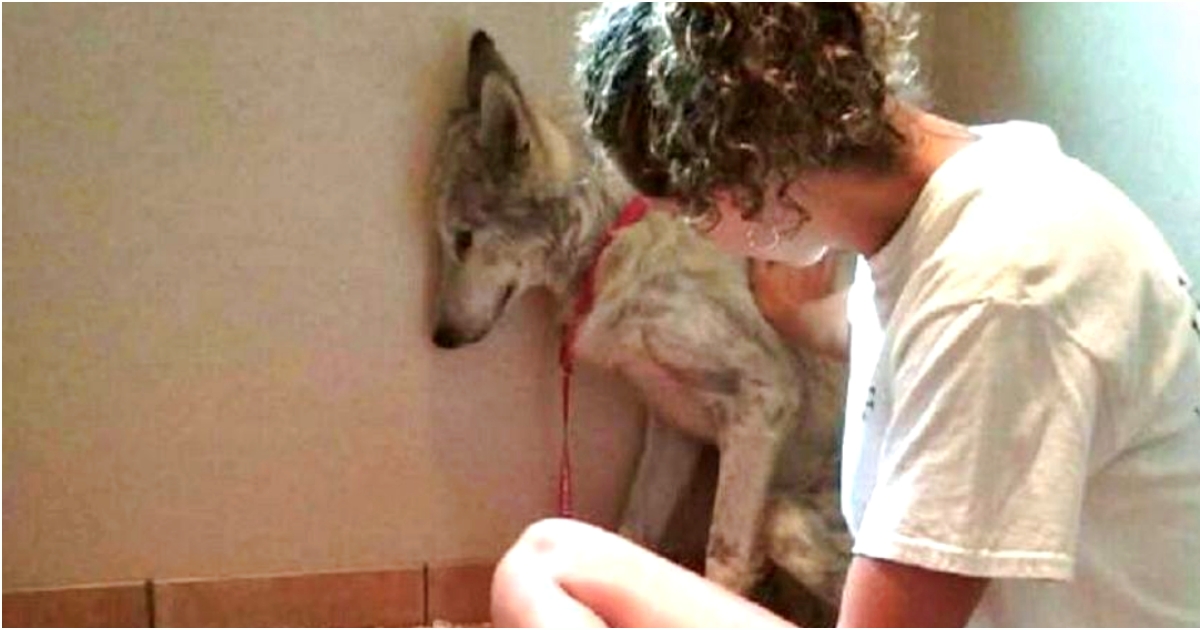 As New Boy was put into a kennel, and examined, an experienced shelter worker noticed this "dog" was certainly different. The shelter worker then made a call to have New Boy examined and her suspicions were confirmed. New Boy was actually a wolf-dog hybrid!
This realization actually presented a big problem. The shelter had no means to care for him. It was illegal for them to keep New Boy so without a new placement, he would be euthanized. The shelter staff wouldn't hear it. They reached out to every place imaginable and finally got a lucky break.
W.O.L.F. Sanctuary in Colorado stepped up and offered to take New Boy. Without hesitation, sanctuary workers took the 18-hour journey to pick up New Boy. Once back at his new home, the wolf-dog got the medical attention he so desperately needed.
The sweet boy needed extensive treatment. He was also anemic and had some issues with his feet. He's doing great as he continues to recover at the animal hospital. Once he's medically cleared, he will join his new friends at the sanctuary.
Please SHARE this article with your friends and family!