After Being Burned Beyond Recognition, Rescued Cat Reunited With Owner Thanks To Microchip
Anyone who doesn't think microchips work or are worth it needs to use this as an example.
When wildfires ravaged the town of Superior, Colorado, hundreds of animals were trapped in the deadly blaze. One of those pets was a 9-year-old cat named Merlin, who escaped through an open sliding glass door while his house went up in flames.
"I can't imagine what he saw through his little kitty eyes," Merlin's owner, Camden Hall, told 9 News. "It had to have been quite terrifying."
But though Merlin escaped with his life, the 9-year-old cat didn't emerge from the wildfire unscathed. When rescuers found him meowing for help from a neighbor's porch, the cat was so severely burned rescuers couldn't even tell what color he used to be.
"The best rescue of the night was a severely burned kitty that was meowing on the porch of the single standing home on a block of other homes that were absolutely decimated," wrote Soul Dog Rescue, which was racing to save animals affected by Colorado's most destructive wildfire on record.
The injured cat was rushed to the animal hospital for emergency treatment. Once Merlin had stabilized, rescuers used the cat's microchip to find his owner.
"Anyone who doesn't think microchips work or are worth it needs to use this as an example," rescuers explained on Facebook. "This kitty was burned beyond recognition so we couldn't tell if it was orange, brown, black etc. The chip helped identify him despite the other factors."
Merlin has a "long road" to recovery ahead, according to Soul Dog Rescue, which is seeking donations to cover the cat's substantial medical bills.
"Some of his skin is sloughing off (including around his nose) and he will need considerable attention to avoid infection and other issues," they reported on Facebook.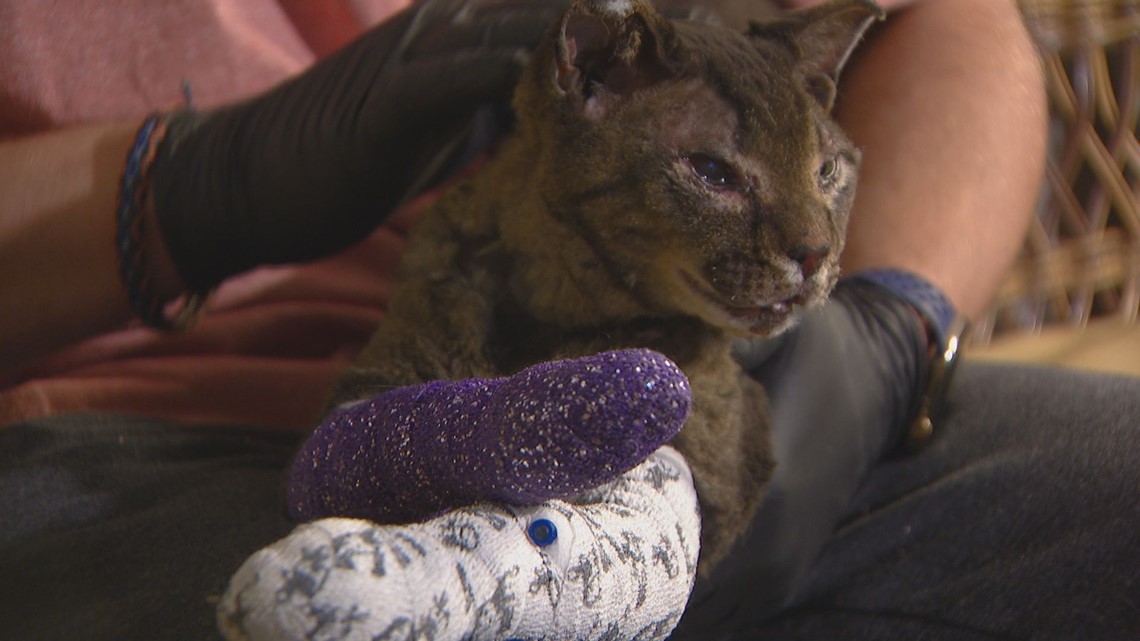 Regardless, Hall (who also set up a GoFundMe page to help fund Merlin's medical bills) is just relieved to be reunited with his loving cat, who clearly has some extra luck on his side.
"That was just when it went from straight hopelessness loss to nothing but joy and happiness and being fulfilled," he said.
Please visit Soul Dog Rescue if you'd like to donate to Merlin's recovery fund.
Please SHARE this article with your friends and family!