Police adopted an injured puppy that wandered the streets and had been attacked
A complicated story this puppy had until he found this kind hearted person 🙏
Millions of puppies abandoned by their owners must try to survive on the streets of different cities throughout the world. And this is not easy at all, since dogs have to worry about getting food, water and fighting against the inclement weather. But just as this reality exists, there are also organizations and people who dedicate their day to day to rescue them and provide them with a home. A few days ago a policeman from New Jersey, in the United States, named Matthew O'Hanlon, found himself at that crossroads. After meeting a 14-week-old pitbull puppy, they find him and his team roaming the streets.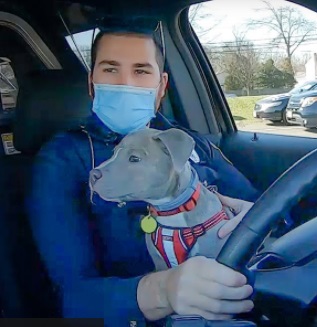 According to information, the puppy was wandering in an industrial area. After being dropped off at a shelter with his colleagues, he felt that he should take care of this little dog. Since he was injured and probably couldn't be adopted any time soon. "When you see a pit bull with an injury, it's hard to let them go," Matthew said. Who also explained that he had been looking to adopt a puppy for a long time. The officer took him to a vet where he was treated for his head injury. There they discovered that he had the tooth of another animal that had probably attacked him when he was wandering the streets.
Matthew named the pup Thor, since he is a Marvel fan. Along with that, he said that he wanted to try to eliminate the prejudice against this breed, which is defined by people as 'aggressive'. "They are the most loving and affectionate dogs I have ever owned. It's unfortunate to see them get a bad rap when it's actually the way they were raised," he added.
Now the puppy is recovering in the officer's house, where he will finally be able to have food, shelter and shelter. "It makes you feel good to be able to help a puppy like this despite what happened to him," the policeman ended by saying.
He shares this rescue and adoption story with his friends and family. So that they see that helping animals that are on the streets is giving them a chance to live longer.