Stray dog keeps sneaking in to store to steal stuffed unicorn, so officer buys it for him
Many dogs have that one favorite toy, the special plaything they become attached to over everything else. These toys can bring a lot of joy and comfort to our pets. But stray dogs, alone and fending for themselves, often don't have any toys at all. So when one street dog fell in love with a stuffed unicorn, he knew he had to have it somehow — and what happened next changed his whole life.
Last week, Duplin County Animal Control received a call from a Dollar General store in Kenansville, North Carolina, about a very unusual shoplifting case. A stray dog had been sneaking in their store, again and again… always stealing the same stuffed, purple unicorn toy.
It seems the dog had become so smitten with this particular toy that he would stop at nothing to have it. He reportedly returned to steal the unicorn five separate times before animal services was called.
"He went straight for the unicorn, the same one every time," Joe Newburn, supervisor at Duplin County Animal Services, told People.
"It was so strange, one of the strangest calls I've ever dealt with."
But Samantha Lane, the officer who arrived on the scene to pick up the dog, had a heart. Seeing how much the unicorn meant to the stray, she paid the $10 of her own money to buy it for him. The dog was brought to animal services, kept in holding while the officers tried to find if he had any owners.
While an officer rewarding a wanted shoplifter isn't typical procedure, it was clear that the toy meant the world to this poor dog, who has nothing in the world. At intake, the dog clung to his stuffed animal, now finally his. The kindhearted act by the officer didn't surprise her peers.
"This is something she's always done," Newburn told WCTI 12. "This isn't something new to her, it's just a different dog, but yes, she's always doing this stuff for the animals."
The officers named the dog Sisu, after a character from the Disney movie Raya and the Last Dragon who has a unicorn-like horn and purple mane. Soon, Sisu was put up for adoption. Duplin County Animal Services shared the story of the dog's brush with shoplifting, which definitely helped his adoption post go viral.
"Sassy with other dogs and will not tolerate any back talk," Sisu's adoption post reads. "Very obedient with people. Knows sit, lay, heel and loves unicorns from dollar general."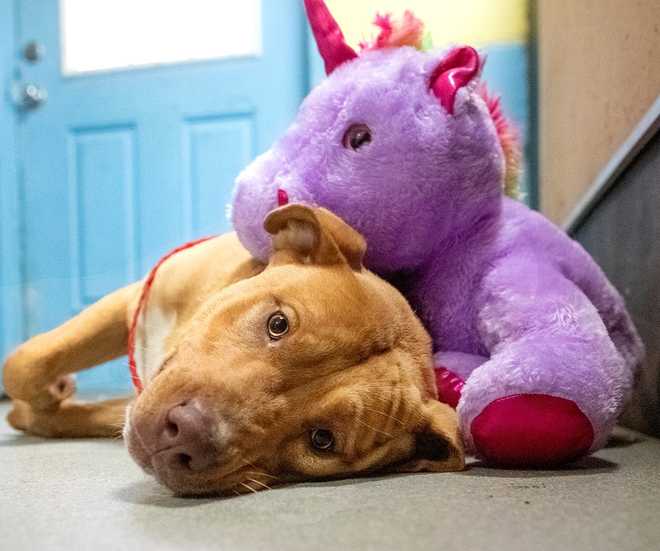 As he waited for someone to take him home, Sisu continued to rely on his stuffed unicorn for comfort. The officers at animal services suspected that he may have had a home at some point, which is why he was so insistent that he have the toy.
"I don't know of any other reason why he would focus on the unicorn other than he had one at home," Newburn told People. "If the store had called and said he tore open dog food, that would make more sense but not hunting for a purple unicorn."
But wherever he came from, Sisu now has a good home: animal services announced the dog has been adopted!
After his story went viral, Sisu finally got the happy ending he deserves. Of course, he'll be taking his beloved unicorn with him… along with a few extras. In honor of their most famous customer, Dollar General announced they will be donating some more stuffed unicorns to his adoptive family.
They also donated pet food to Duplin County Animal Services, and gave Officer Lane a "special thank you gift."
"We are paws-itively thrilled that Sisu is enjoying his new toy!" Dollar General's corporate office said in a statement to WCTI 12. "We are also grateful for Animal Control Officer Lane in helping to rescue him."
We're so glad that Sisu and his unicorn have finally found a forever home! What a happy ending. Share this incredible story!